October 15, 2022
Taylor & Kim | CT Wedding | Wrights Mill Farm, Canterbury, CT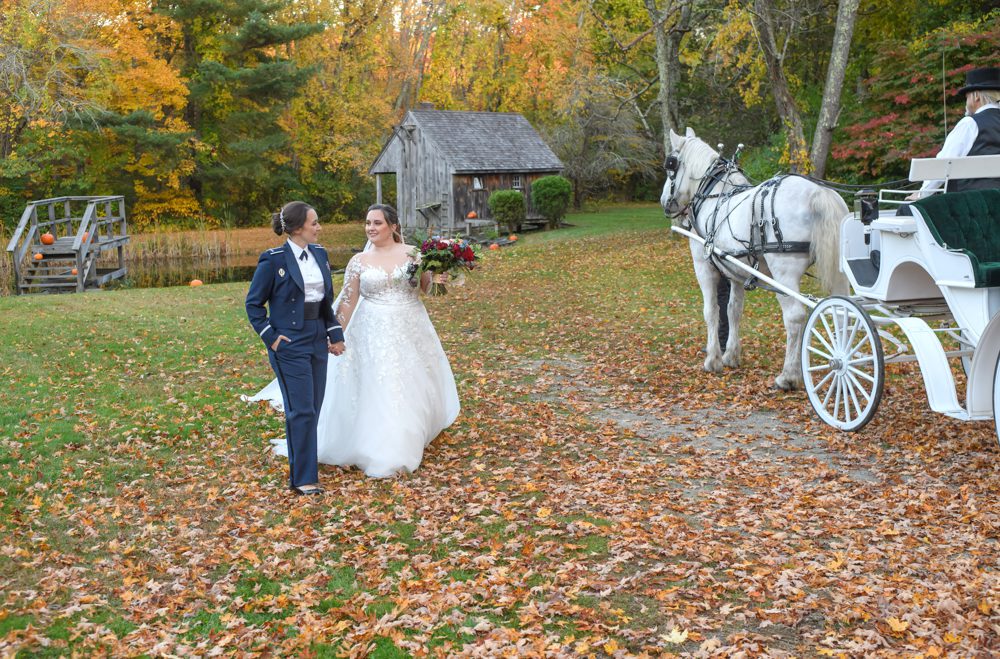 Taylor and Kim met in high school and share many years of ups and downs and all arounds. Through college and military training, their relationship flourished and were engaged in Wyoming, soon after Kim's military assignment.
Both from Connecticut, they never thought twice about having their wedding in Connecticut, closest to their family and friends. Despite their distance, a pandemic and potential for deployment, they continued with their wedding plans.
Taylor & Kim found the venue of their dreams during their most favorite season, Autumn. The foliage was tremendous, the grounds and venue's old country New England style, including a horse drawn carriage, made for a perfect Autumn day. Their ceremony ended with a traditional military Arch of Swords, used to salute the newly married couple. Their reception included a lot of dancing fun as well as a sparkler send off and a black corvette!
Tears flowed, love was abundant and the smiles were endless. Congratulations Taylor and Kim. Thank you Kim, for serving our country and Taylor, for supporting Kim and continuing to grow your love!
Venue: https://www.instagram.com/wrightsmillfarm/
Florist: https://www.instagram.com/bloomcreativefloral/
Bridal Shop: Be Unique Boutique
Officiant: Kimberly Rodriguez
Hair & Makeup: https://www.instagram.com/egsalon/ https://www.instagram.com/parisiandayspa/
Catering/Cake: https://www.instagram.com/wrightsmillfarm/
Favors: Homemade honey by Uncle Bill & Aunt Megan
Stationary: https://www.instagram.com/zazzle/
Videographer: https://www.instagram.com/4thhenryproductions/
Photographer: https://www.instagram.com/perceptionsct/
Entertainment: https://www.instagram.com/upbeat_dj/